Gourmia Air Fryer Digital 7QT 6.6L
If it isn't broke do not fix it is the mantra people quote frequently. Well fortunately Gourmia does not live by those rules. Introducing to you the new Gourmia Air Fryer Digital 7QT 6.6L released in 2022.

If you haven't read our review of the smaller version Gourmia Air Fryer then we suggest you take a look to read what we said about that one.

Basically, Gourmia is now proving that they are at the top of their game currently. They are releasing products that are not just helpful in producing healthier fried food but releasing models of a high quality and standard.

What in the Gourmia Air Fryer box?

Gourmia Air Fryer Digital 7QT, 6.6L
Nonstick basket
Nonstock crisper tray
Multi-Purpose rack
Recipe book
Gourmia Air Fryer Digital 7QT, 6.6L User Manual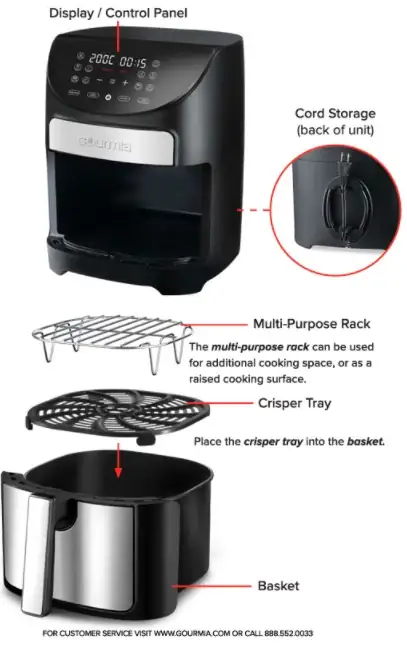 The Touch screen on the Gourmia Air Fryer Digital 7QT 6.6L has 10 pre sets that set a specific temperature and time depending on the type of food you are cooking. The display is bright, clear and easy to read and the icons are big enough that even my big fingers cannot hit the wrong setting!!

The main difference in comparison to the other Gourmia is the size of the basket which is 6.6L. This is a godsend to those who like an adult sized portion of chips of if you like to fry other larger items. You now have an extra litre of space that can be used to put more food in or give you a extra bit of room for air flow.

Personally, having a bigger basket means that the items you put in the basket have more chance of cooking quicker. Which means you get your food to the table quicker and you save on electricity.

So we have to go to our trusty chip test. Does this Gourmia Air Fryer Digital 7QT 6.6L produce a nice crispy chip or French fry?
The answer is a resounding yes, but be careful. As we mentioned if you chose to half fill the basket with thinly cut fries and you have the temperature settings set a bit to high then the outside of the French fry can burn. You can remedy that by apply a bit more oil or by turning the heat down a touch.

A regular chip though comes out wonderfully and the best thing is there is little to no oil to clean up afterwards.

You can however purchase lots of accessories to make your experience even better like these items mentioned below.


Here is a quick look at the pre-heat settings that come with the Gourmia Air Fryer Digital 7QT 6.6:


The air fryer technology has settled now and it seems like there is not much in more in way of innovation that can be done. The goal now of fryer manufacturers is to make the items reliable, stable, user friendly and easy to maintain. This Gourmia air fry does all of the above expertly.

Is this Gourmia Air Fryer Digital 7QT 6.6L for everyone?

The answer is yes it is. Its big enough to cook a lot of food. It is easy to store and move around and it looks really good too. So you cant really go wrong!


Hazloez UK
Recipe book included? Yes
Summary
This is a wonderful addition to the Gourmia Air fryer range. We welcome the extra size of the basket and are also happy that the quality still remains very high. As it has just been released and we are still testing it our views may change. But as it stands you are always getting value for money when you buy from gourmia.